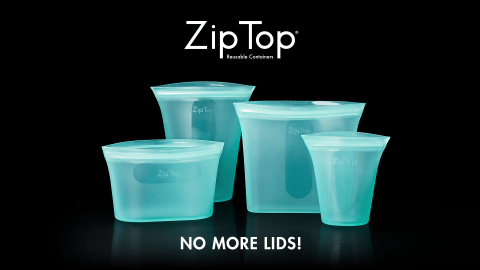 Zip Top®
Zip Top® reusable containers stand up, stay open & zip Shut. Made with 100% platinum silicone which means they are endlessly reusable, food grade, microwave, dishwasher, oven & freezer safe!
MSRP
Starts from $7.99
Categories
Stocking Stuffers
,
Under $50 Dollars
,
Food Preparation & Storage
,
Home & Garden
,
Kitchenwares
Visit:
http://www.ziptop.com
Product Description:
Plastic waste in the food storage industry is not only from disposable plastic bags. Most plastic storage containers are rendered useless and thrown away once their lids are lost, warped or damaged.
Zip Top® containers don't require lids! So save your money and save the planet.
Traditional plastic containers are petroleum-based and can contain harmful chemicals. These toxins can leach into your food, especially when heating or microwaving. Every Zip Top® container is made of 100% pure platinum silicone and is completely plastic-free.