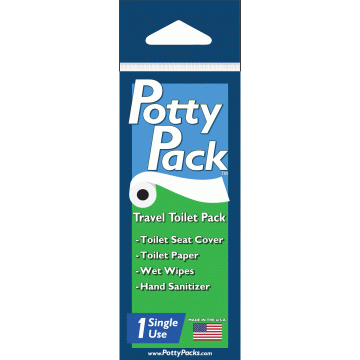 Potty Pack
This travel toilet pack has everything but the toilet.
MSRP
$2.50
Categories
Travel Accessories
,
Camping & Backpacking
,
Travel & Adventure
Visit:
https://www.pottypacks.com/
Product Description:
This travel toilet pack has everything but the toilet. Included are a seat cover, 4 feet of two-ply toilet paper and wet wipes. The wet wipes are made with Vitamin E and Aloe Vera. Follow up by cleaning your hands with the sanitizer lotion and hand wipes. ​
4 Feet of two-ply Toilet Tissue ​
Wet Wipes with Aloe and Vitamin E ​
Hand Wipes ​
Hand Sanitizer ​
Seat Cover
Product Review:
I got a box of assorted products from Potty Packs yesterday and for some reason, even though they're for the most private times of your day, I find them hilariously funny and completely appropriate.

Each packet addresses a specific situation, from an uh oh moment for the ladies to a bad day on the ski slopes (like that ever happens :D)

They really have thought of everything, tiny lip balms, sun screen, wipes, pain relief, electrolyte powders for rehydrating, toilet paper, toothbrushes, combs. ​
​
And of course, the hangover packet, with the ever important breath mint. ​
​
For the price, you MUST have the full assortment, because you never know when you'll need a wipe. They small, essentially flat and will easily fit in a bag or pouch.