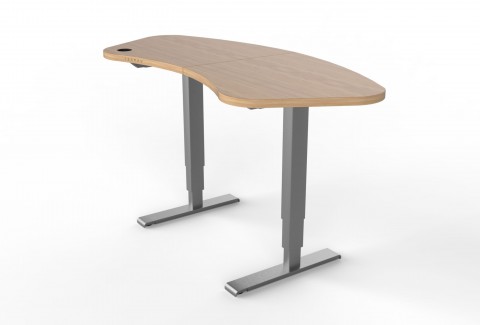 Smart Sit-and-Stand Desk
The Smart Sit-and-Stand Desk is an ergonomically designed workstation that automatically adjusts to its' user's preferred height via a smooth touch-sensitive control panel.
MSRP
$649
Categories
Office Furniture
,
Furniture
,
Home & Garden
,
Program, Commercial & Facility
Visit:
http://ergonomyx.com
Product Description:
The Smart Sit-and-Stand Desk can connect to an array of peripherals including our Smart under-the-desk bike which lets users log miles while staying logged on.
The brain of our Smart Sit and Stand Desk is our patent pending Smart Desk Controller with CPU, memory, and wireless communication capabilities. It identify users through their smartphone, key fob, or a QR code. Our Smart Desk Controller then transmits those preferences and health vitals via a remote server to the performance database, where it is logged and accessible for ongoing performance reporting.
The refined, smooth surface design of our capacitive control panel allows users to set height and performance settings with the lightest touch. Alternatively, users can control their settings remotely by pairing with their smartphone.
Unlike other height-adjustable desks on the market, the Smart Sit and Stand Desk features embedded channels that conceal cables in an easy-to-access patent pending design.
The Smart Sit-and-Stand Desk offers abundant space for a computer, keyboard, office consumables, notebooks, and files and is modular to accommodate and integrate with other Smart Sit-and-Stand Desks in open workspaces.