Titan Tennis Ball Launcher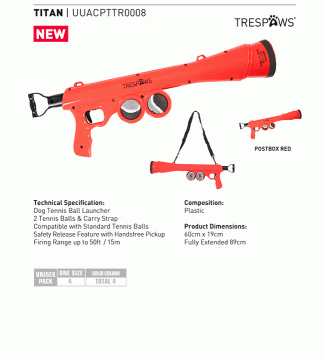 Titan Tennis Ball Launcher
Stretch their legs further and have a little fun of your own with the Titan tennis ball launcher.
MSRP
£29.99
Categories
Pet Games & Toys
,
Pet Products
Visit:
https://www.trespass.com/titan-dog-tennis-ball-launcher
Product Description:
The intelligent design includes a safety release feature, handsfree pick up and a firing range of up to 50 ft. With this game changer, you might be the one begging them for a game of 'fetch'.
TECHNICAL RATING
60cm x 19cm
Fully Extended 89cm
FEATURES
Dog Tennis Ball Launcher 2 Tennis Balls & Carry Strap Compatible with Standard Tennis Balls
Safety Release Feature with Handsfree Pickup
Firing Range up to 50ft / 15 metres
---

Related Items
Prized pooches deserve pampering, and the Teddy mitt is perfect for exactly that. The silicone-studded palms are ideal for grooming and massage purposes, while also proving to increase circulation and a healthy metabolism.
The Willow dog drying mitt is ideal for even the muckiest of pups. The super absorbent chenille microfibre will leave them (and your furnishings), as dry as a bone.