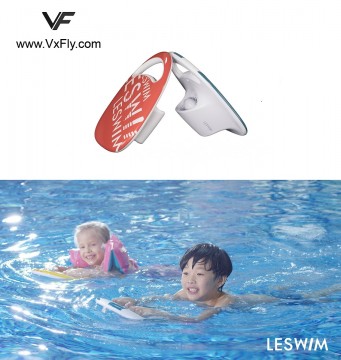 LESWIM
LESWIM is an electric kickboard that can provide both buoyancy and propulsion.
MSRP
TBD
Categories
CES 2020
,
Outdoor Recreation & Leisure
,
Water Sports
Visit:
http://www.vxfly.com/leswim
Product Description:
Designed for children and adults, LESWIM is both easy to carry and easy to use. Users just need to hold the two ergonomic buttons simultaneously to start it, and release them to stop. There's a GoPro mount, allowing users to capture memorable underwater moments to share with their friends and family.
Weighing only 2.6kg, LESWIM can easily fit into a backpack. With a mild force propeller, LESWIM provides 4kgf and moves at a speed of 1m/s. At this comfortable speed, both the user and their surroundings are safe from harm. The propeller generates noise lower than 50 dB, so as to not cause any disturbances during use.
The battery of LESWIM is rechargeable and easy to swap. Moreover, the battery is sealed in a waterproof housing to ensure the electrodes are well protected from water.