Open-Fire Pop Outdoor Popcorn Popper Set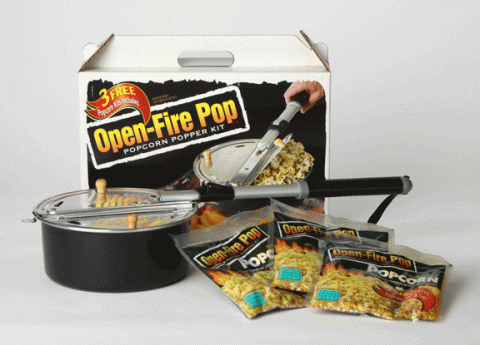 Open-Fire Pop Outdoor Popcorn Popper Set
Do you enjoy spending your summer evenings next to an outdoor fire with your favorite snack? If so, this is the popper for you!
MSRP
$29.99
Categories
Camp Food & Supplies
,
Outdoor Recreation & Leisure
Visit:
https://www.whirleypopshop.com/27000.html
Product Description:
The Open-Fire Pop ™ Popcorn Popper's unique design allows moisture to escape during popping so your popcorn is always tender and crisp.
Make hot, crunchy mouth-watering popcorn in minutes with the old-time "shake and pop" experience over your campfire, fireplace or backyard grill!
3 Free Popping Kits Included: Kit includes fresh popping corn, our secret buttery salt and premium popping oil. Everything you need to make your first batch of delicious Open-Fire Pop Popcorn!
The Four Quart Capacity makes plenty of popcorn for sharing with friends and family.
Space Saving Storage with its collapsible, telescoping handle and convenient hanging strap it slides in and out and detaches allowing for convenient and space storage.
Easy Clean-up with a removable lid with click release clips for cleaning. Just wipe pan with a paper towel and store for later use.
Safe and Convenient to Use with the comfort grip 2 foot long handle. The handle stays cool and the easy pour lid keeps your hands away from the heat.