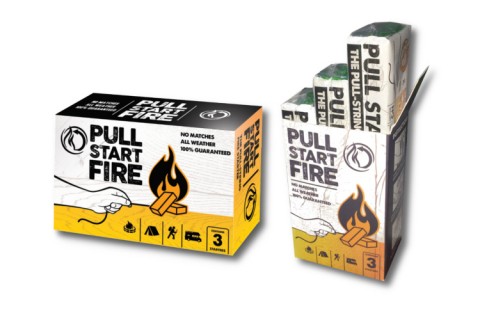 Pull Start Fire
Pull String Fire Starter. No matches, no kindling need. Windproof, waterproof, rainproof. Burns 30 minutes.
MSRP
$17.99 (3-pack)
Categories
Emergency & First Aid
,
Camping & Backpacking
,
Cooking, Heating & Light
,
Essentials & Accessories
,
Outdoor Recreation & Leisure
Visit:
http://www.pullstartfire.com/
Product Description:
Pull Start Fire was designed by a team of engineers to be the #1 fire starter and is truly a revolution in fire! It takes all the hassle of starting a fire and compacts it into one magi​c-like pull of a string. It needs no matches or lighters and is designed to start and maintain its large flame against high winds and light rains. Its light and compact size makes it easy to store and travel with.
Simply loop the green string around a log, build a structure of logs, then pull the red string. It's that easy.