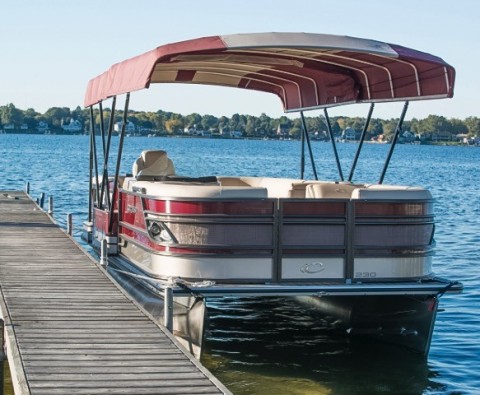 Easy Cover
Easy Cover means uncovering and covering your pontoon boat effortlessly. No more wrestling matches with mooring covers, endless snaps or crawling around on your hands and knees to install poles.
MSRP
$8500.00 Depending Upon Pontoon Boat
Categories
Boating & Rafting
,
Outdoor Recreation & Leisure
Visit:
http://www.visionmarineproductsllc.com
Product Description:
Imagine a powered convertible top for your pontoon. The Easy Cover is a remote controlled automatic pontoon cover system that completely eliminates the hassles inherent to conventional mooring covers!
The Easy Cover key fob remote control allows the user to select from four great positions. The Bimini position shades the rear half of the boat while the front half is open for sunning. The Double Bimini position provides shade for the entire playpen. The Bridge position lowers the top to provide eben more shade while still able to see to operate the boat and the Cover position lowers the top to cover the boat when not in use.
The Easy Cover is constructed with marine grade materials and components to ensure your family's enjoyment for years to come.