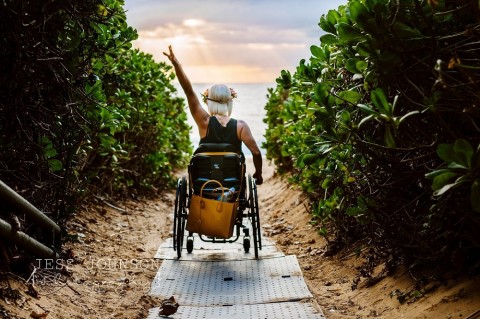 Beach Trax
Beach Trax is an innovative folding pathway for handicap access over outdoor terrain. Removable hinges allow path customization. Fast and easy set up- just unfold! Perfect for adaptive sports, travel, yards or events.
MSRP
$68
Categories
Travel Accessories
,
Access Panels, Mats & Runners
,
Environment
,
Outdoor Recreation & Leisure
,
Patio & Yard
Visit:
http://accesstraxsd.com
Product Description:
Take control of your accessibility with Beach Trax- the only foldable, lightweight, portable pathway for wheelchair access across uneven terrain such as sand, gravel or grass. Individual 3ft by 3ft (91 cm) square panels are only 5.2 lbs each and connect via removable hinges to allow customization to make turns or platforms. Thirty feet (9.1 meters) weighs 53 lbs (24 kg) and can be unfolded over the terrain in 1 minute by 1 person. When folded for storage or transport, 30 feet stacks approximately 3 inches (7.6 cm) thick, fitting in virtually any car. It can even be checked as luggage on a plane! With Beach Trax, you can access the outdoor activities you enjoy without worrying about barriers. Perfect for families, travelers, resorts, and events!