LeafTwisters Reusable Twist Ties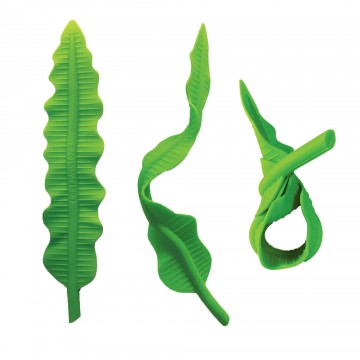 LeafTwisters Reusable Twist Ties
LeafTwisters are ecofriendly reusable twist ties to help keep items closed and organized. LeafTwisters are made of silicone with a metal wire inside to bend and shape as needed.
MSRP
$6.00/set of 3
Categories
Grips & Holders
,
Gadgets & Tools
,
Home & Garden
,
Kitchenwares
Visit:
Leaf Twisters Ties
Product Description:
These reusable silicone LeafTwisters are great for bags of chips, cereal, bread, and more and can be used in the refrigerator and freezer. Keep a few in your purse or bag for when you visit the grocery store and need to tie vegetable or fruit bags. You can even use them to manage unruly cords which make them an excellent travel companion.
All three lengths are an inch and a half wide width making it super easy to grab hold to twist and untwist unlike the tiny wire and paper ones, or the hard to pick up and easy to lose plastic bread bag clips. LeafTwisters are a nice alternative for those with arthritic hands, as well as fun and easy for kids to use.
Set of 3 ties-6", 7", 8" long.
---

Related Items
ClipCut is a bag cutter and clip all in one. Now with the ClipCut you can easily cut open bags and then close them shut for freshness with one simple tool.
Use ButterEasy to easily spread butter without using a knife for prepping pans to keep food from sticking.
CrackSpot is the perfect egg cracking tool that fits on any bowl edge and limits shell fragments.