Onelink Smart Smoke & Carbon Monoxide Alarm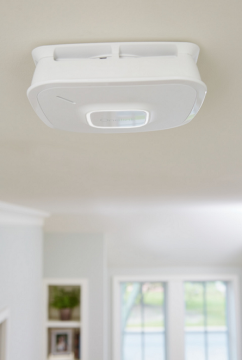 Onelink Smart Smoke & Carbon Monoxide Alarm
The Onelink Smart Smoke & Carbon Monoxide (CO) Alarm offers innovative smart home capabilities and safety features to enhance every home.
MSRP
$119.00
Categories
Home & Garden
,
Smart Home Security
,
Home Security & Safety
,
Smart Technology
Visit:
https://onelink.firstalert.com/
Product Description:
The new Onelink Smart Smoke & Carbon Monoxide (CO) Alarm by First Alert offers innovative smart home capabilities with premium safety features and sensing technologies to enhance any home's level of smart protection.
This easy-to-install two-in-one alarm protects against the threats of smoke and CO. If smoke or CO is detected in the home, the alarm will notify users via exclusive voice and location technology. In the event of a smoke or CO emergency, the alarm will also send an alert to the user's smart phone. Additional smart features include compatibility with Apple HomeKit and wireless interconnection allowing other compatible Onelink alarms to communicate with each other, so all wirelessly connected Onelink alarms will sound if a single alarm is triggered.
The Onelink Smoke & CO Alarm is offered in both hardwired and battery-powered options to accommodate different consumer needs and legislation requirements. The hardwired version, which takes advantage of a home's existing wiring, is also equipped with battery back-up for protection during power outages. The hardwired model also includes a customizable nightlight, allowing users to select the color and brightness through their smart phone or tablet to light the way at night for added safety and convenience.
The alarm is compatible with both Android and iOS devices. The companion Onelink Home app can be downloaded from Google Play or the App Store.
---

Related Items
A smoke and carbon monoxide alarm with a superior home speaker and ability to process voice commands. Features exclusive voice and location technology to alert of danger and its location.
The Onelink Safe & Sound is a 3-in-1 alarm that serves as a first-rate smoke and carbon monoxide (CO) alarm, premium home speaker and virtual assistant.