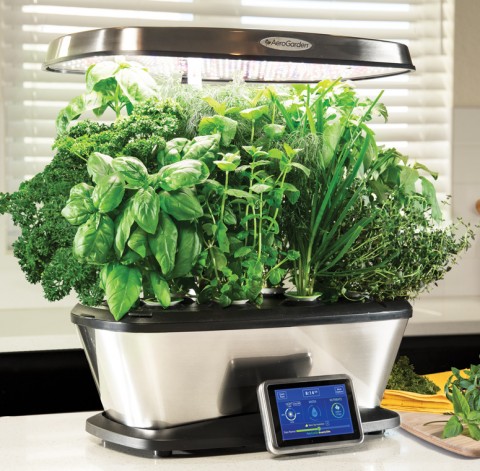 AeroGarden Bounty Elite
This 9-Pod soil free indoor garden uses 45 watts of LED power to keep plants growing stronger & healthier. The advanced touch-screen control panel with interactive display makes setting up and tracking your gardening success easy and fun.
MSRP
$379.95
Categories
Appliances
,
Smart Appliances
,
Home & Garden
,
Gardening & Horticulture
,
Kitchenwares
Visit:
https://www.aerogarden.com/bounty-elite.html
Product Description:
Grow up to 9 of your favorite herbs, veggies or flowers indoors, all year long - no sun, soil or green thumb required! The AeroGarden Bounty Elite is a fully contained in-home garden system, automatically delivering everything your plants need to thrive. Perfect for tall veggies, like full size tomatoes and sweet bell peppers, with a touch-screen control panel and sleek stainless-steel finish, you'll never again have to wait for summer to get those farmers market fresh flavors at home.
The Bounty Elite's grow light hood contains 45 watts of white, red and blue LED lights, giving your plants the full spectrum of sunlight they need to grow, and grow quickly! Plants grow 5X faster than in a traditional outdoor garden. And the automatic timer makes sure the lights go on and off at exactly the right time. The easy to use touchscreen control panel displays all your garden's vital statistics (water level, days planted, relationship status) and gives you reminders for when to add things like water and our patented plant food. Keeping your plant babies happy and thriving is never a problem. And the light hood extends 24" high, giving you tons of room for your favorite tall veggies and flowers to really mature.
The Bounty Elite sets up fast, so you can get back to collecting all the recipes you'll soon be making with your amazingly fresh herbs and veggies. Just drop the included seed pods in your garden, fill the bowl with water and some plant food, plug it in, launch the garden sequence on your touchscreen and you're good to go! Want garden fresh tomatoes in the dead of winter? No problem! How about beautiful petunias for months on end with no florists fee? Done and done. And if you ever get a seed pod from our 70+ varieties that doesn't sprout, just give us a call! We have a germination guarantee and will get a new seed pod in the mail to you lickety split. So get growing!
Bounty Elite 9-Pod gardens include everything you need to grow:
Gourmet Herb Seed Pod Kit
Advanced, touch-screen Control Panel with interactive display
45 Watt LED Grow Lights – for faster growth & healthier plants
Trellis system for tall plant support
Fully adjustable lamp arm
Beautiful, stainless-steel finish
17.25" W x 11.25" D x 15" - 34"H
---

Related Items
Sleek and compact, the AeroGarden Sprout is designed to grow almost anywhere, from kitchen counters to your office desk and more. Ideal for fresh herbs, salad or flowers.
This 6-Pod soil free garden was designed for the kitchen counter – with the perfect size and footprint for growing fresh herbs and vegetables year-round.
The Farm Plus is a sleek and stylish 24-pod growing machine that delivers an abundance of fresh herbs, veggies, salads and more when you want them. Plus, with the Wi-Fi connection and AeroGarden App you'll never miss a watering or feeding – key reminders conveniently arrive right on your mobile device.