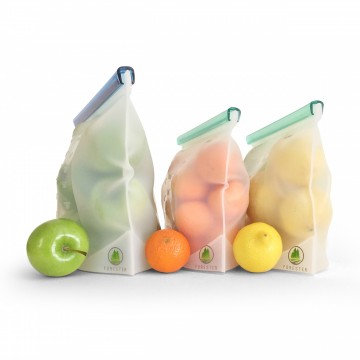 Forester Silicone Bags
Forester Bags are made of premium food grade silicone. Our silicone bags come with a user friendly sliding bar to airtight seal the bags and keep the food fresh.
MSRP
$8.99 - $44.44
Categories
Home & Garden
,
Kitchenwares
Visit:
https://foresterbags.com/
Product Description:
While there are reusable plastic bags in the market, the health issues caused by reheating or freezing food in plastic remains a problem.
Forester reusable food bags are a healthier choice.
They are made of non-toxic, non-reactive, non-allergenic, and tasteless FDA approved food grade silicone.
Forester silicone bags do not contain BPA, BSP, BPF, PVC, phthalates, latex, or any poisonous chemicals.
Forester Reusable Silicone Bags are incredibly versatile and can withstand temperature range: -76°F to 428°F (-60ºC to 220ºC).
Plastic Zip bags on the other hand, handle only: -22°F to 194°F (-30ºC to 90ºC).
You can use your Forester Silicone Bags in the microwave, sous vide, oven, and slow cooker and these bags are perfect for your freezer and refrigerator.
---

Related Items
Two Piece Stainless & Silicone Straw