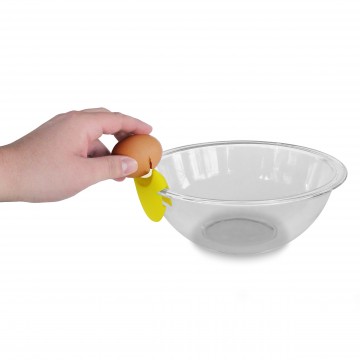 CrackSpot Egg Cracker
CrackSpot is the perfect egg cracking tool that fits on any bowl edge and limits shell fragments.
MSRP
$6.00
Categories
Home & Garden
,
Kitchenwares
Visit:
CrackSpot Egg Cracker
Product Description:
Make a clean break on eggshells with the CrackSpot. Don't you hate fishing out small bits of eggshell from your raw egg when you're just trying to start your morning. This little bowl-side easy eggshell cracker conveniently solves that problem. Why not just use the edge of a bowl or the countertop…well, because of fragments! The specifically designed blade shape perfectly splits the shell making opening the egg smooth, easy and fragment-free, letting you happily crack-on with your day.
Its flexible material and multi-rim interior design fits over a variety of edges on many bowl shapes and sizes. Whether the bowl is glass, plastic, stainless steel, or ceramic, the CrackSpot rests securely on the edge. The safe touch plastic "blade" not only limits shell fragments it allows you to eliminate messy unsanitary raw egg dripping down the side of bowls and landing on your countertop. The CrackSpot is made of high temperature silicone and rigid plastic which is completely dishwasher safe for an easy cleanup. So, if you're cracking one raw egg, or a dozen, for baking and cooking, CrackSpot will have you cracking with ease.
---

Related Items
ClipCut is a bag cutter and clip all in one. Now with the ClipCut you can easily cut open bags and then close them shut for freshness with one simple tool.
LeafTwisters are ecofriendly reusable twist ties to help keep items closed and organized. LeafTwisters are made of silicone with a metal wire inside to bend and shape as needed.
Use ButterEasy to easily spread butter without using a knife for prepping pans to keep food from sticking.