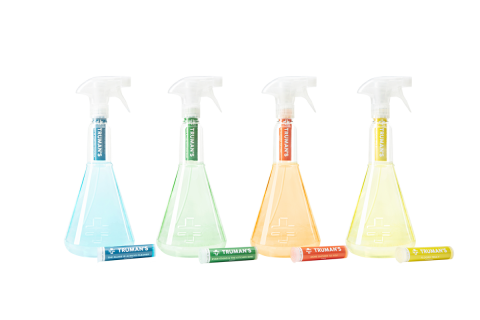 Truman's Starter Kit
Tackle virtually all of your home's hard surfaces with just four non-toxic spray cleaners. Truman's utilizes reusable bottles and concentrate cartridges, so you simply add water at home. The cartridges are so small you can store a decade's worth in a kitchen drawer!
MSRP
$15
Categories
Cleaning & Housekeeping
,
Home & Garden
Visit:
https://www.trumans.com/
Product Description:
We started Truman's because nobody needs a gazillion cleaning products with harsh chemicals cluttering their cabinets, and our planet certainly doesn't need the plastic empties. We believe cleaning should be green, simple, convenient and cost less.
Our four non-toxic cleaners — Everything and the Kitchen Sink, Floors Truly, More Shower to You and The Glass Is Always Cleaner — safely and effectively clean virtually all of a home's hard surfaces.
Truman's ships all cleaners directly to your home. Refill Kits with four cartridges for each cleaner arrive every six months. You can pause or supplement based on your cleaning habits. (We don't judge whether you're OCD or love those thick layers of dust.) Go ahead. Cross four items off the shopping list permanently.
Because we ship directly to your home, there's no store mark-up and Truman's covers all shipping fees.