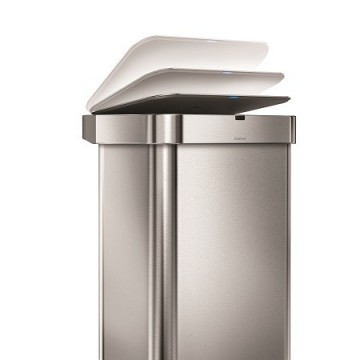 Simplehuman Sensor Can
simplehuman's sensor can is now equipped with voice control. To operate the trashcan, wave your hand over the sensor, or say, "open can." making it mess and hassle free.
MSRP
$200
Categories
Cleaning & Housekeeping
,
Reviews
,
Smart Appliances
,
Home & Garden
,
Housewares
Visit:
Simplehuman
Product Description:
Our rectangular sensor can with voice control opens at the sound of your voice. Just say, "open can" and the lid opens automatically, so throwing trash away is quick, efficient and hassle-free. It also has a motion sensor that opens the can with a wave of your hand and is smart enough to adapt to you and the surrounding environment — no false triggers, no unexpected lid closures.
This can features our innovative 'liner pocket,' which stores and dispenses liners from inside the can for a faster liner change.
The liner rim lifts up for easy access to the liner, then closes to grip and keep it neatly out of sight. An invisible nano-silver clear coat protects stainless steel from fingerprints and germs. ADA-compliant.
Product Review:
This garbage can makes me smile. Literally. It listens to the tv and opens when the news comes on. Not only that, it loves to play with Jacob by opening when he walks by. Now they play together, Jacob walks by, the garbage can opens, he drops his ball in, it closes, and... he waits.. and continues to wait until he moves again, and the lid pops open.

The sensor is on the front of the can at the lid level, so just wheeling in front of it will activate it, as will saying open can, or just open, so it's very accommodating.

It's also really pretty. Semi matte silver with a low gloss shine, it's elegant and clean looking, fitting right in anywhere at all.
---

Related Items
Experience the most luxurious and mess-free way to wash your hands with the simplehuman foam cartridge sensor pump as it delivers just the right amount of rich, creamy pre-lathered foam.