Chefman Color Changing Kettle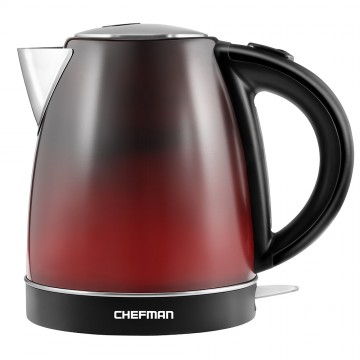 Chefman Color Changing Kettle
The Chefman Color Changing Kettle turns red when water is boiling so you always know when water is hot.
MSRP
$49.99
Categories
Appliances
,
Home & Garden
Visit:
https://chefman.com
Product Description:
Attractively housed in black stainless steel, this Chefman electric 1500-watt Color changing hot-water kettle makes a striking presence on any kitchen counter or buffet.
Use it to quickly bring water to a boil for anything from tea, instant Coffee, and hot cocoa to oatmeal, instant soup, noodles, and more.
The kettle easily lifts from its 360 swivel base for easy filling at the sink and graceful serving without the hassle of a power cord; It can also be returned to its power source from any direction, great for right and left-handed users.
For safety, the kettle shuts off automatically once the water has reached a boil - no need to worry about it boiling dry. Other highlights include a comfortable stay-cool handle, a non-drip pouring spout, A flip-back lid for convenient filling or cleaning, and a stainless steel interior.