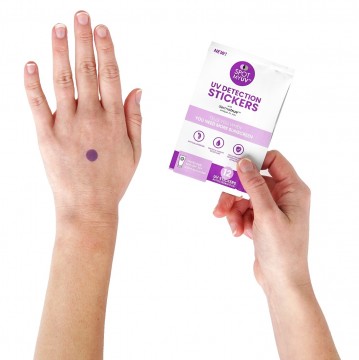 SPOT MY UV
SPOT MY UV are stickers which sense SPF and change colour when you need to use more sunscreen.
MSRP
$11.99
Categories
Travel Accessories
,
Child Safety Products
,
Under $50 Dollars
,
Skin Care
,
Tests & Monitors
,
Outdoor Recreation & Leisure
Visit:
http://www.SPOTMYUV.com
Product Description:
Stick the SPOT MY UV sticker on your arm, and apply sunscreen over top of SPOT (and everywhere else too!). SPF absorbs into SPOT (just like SPF absorbs into your skin) using a patent pending technology called dermaTRUE.
When you're outside and fully protected, SPOT will change to CLEAR. When you need to reapply, SPOT turns PURPLE to warn you. If you reapply SPF, the same sticker will turn clear again. SPOT is reusable for 1 day outside, as many times as you need to reapply sunscreen.
SPOTMYUV is
-Water & Sweat resistant - great for activity & swimming!
-Dermatologist & Pediatrician Approved
-Compliant with all broadband sunscreens (mineral, lotion, spray, stick, roll-on)
-Recommended with SPF 30+ sunscreen
-Reusable for 1 day