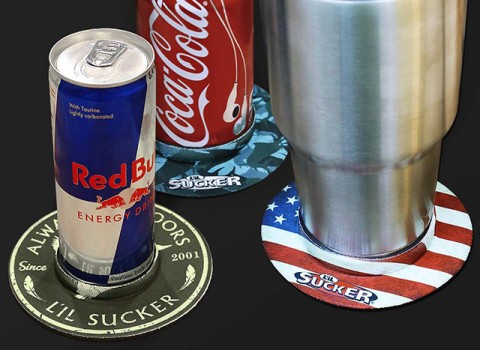 Lil Sucker
The patented L'il Sucker® keeps your drink firmly planted where you want it. Just slip it on your can, bottle, tumbler, or rambler from the bottom up, set it on any smooth surface, and let L'il Sucker® do it's magic.
MSRP
$5.00
Categories
Daily Living Tools
,
Editors Picks
,
Grips & Holders
,
Reviews
,
Stocking Stuffers
,
Under $50 Dollars
,
Housewares
Visit:
https://lilsucker.com/
Product Description:
L'il Sucker® is designed to keep your beverage secure under the harshest conditions. We've engineered the center hole to create maximum tension to provide that added sense of security.
Every L'il Sucker® is made using high quality neoprene with sublimation printing to ensure a product that will last for years.
Product Review:
This is one of those "why didn't I think of that" products that everyone needs but you don't know you need it until you have it.

We took these to an expo filled with wheelchair users and it was a hit with everyone, especially those who use power chairs with boards on them and people who needed a bit of extra stability during the grasping process.

They're small enough to fit just about anywhere and will hold a standard water bottle, can or soft drink (as long as the base of the container keeps a seal where the lip of the Lil Sucker holds it.

For the price, it's well worth it to get a stack of them and the selection is huge so you'll find something you like. If not, design one :D