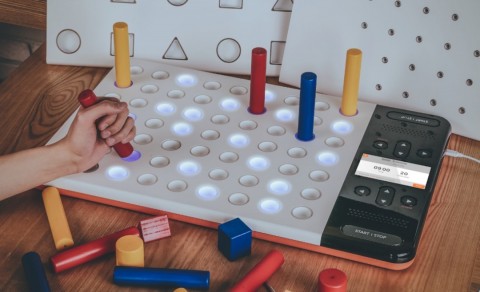 RAPAEL Smart Pegboard
The RAPAEL Smart Pegboard is a digital training platform that provides visual and auditory feedback to motivate users through gamified training as they rehabilitate their upper extremities.
MSRP
$2,000
Categories
Daily Living Tools
,
Gaming, VR & AR
,
Rehab & Therapy
Visit:
http://www.neofect.com/en/product/pegboard/
Product Description:
NEOFECT's RAPAEL Smart Pegboard is a new take on the traditional therapy procedure requiring patients to repeatedly place wooden pegs into a large board.
This digital solution offers three board shapes that light up and 30 engaging games to improve hand/eye coordination, grasp, and dexterity. For instance, one of the most popular is a whack-a-mole game that lights up a peg for several seconds, signaling the patient to insert the peg before the light changes position.
Sound and light effects differ based on whether a patent wins or loses a game, which capitalizes on neuroplasticity, and makes training easy and fun.
---

Related Items
The Smart Glove is a wearable, active finger and hand rehabilitation solution that connects via Bluetooth to a screen where movements are mirrored and measured.
The RAPAEL Smart Board is designed to strengthen and improve the arm and hand functionality of patients with neurological and musculoskeletal injuries.