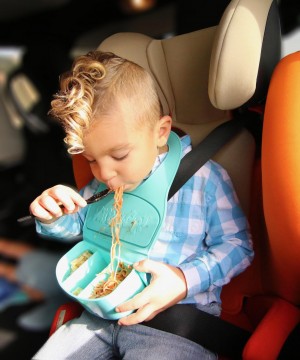 Dare-U-Go!
On-The-Go Made Easy! Dare-U-Go! is a 5-in-1 solution that simplifies feeding your little ones on-the-go.
MSRP
$22.99
Categories
Eating and Drinking
,
Daily Living Tools
,
Under $50 Dollars
Visit:
https://www.dareugo.com/
Product Description:
Designed with travel in mind, Dare-U-Go! folds into a food storage unit that seals airtight. It not only catches food, the bib keeps clothes clean, the non-stick, 100% food grade, NON-LATEX Phthalate material surface is easy to wipe down and with built in dividers, food doesn't touch! A spork is also included.
Dare-U-Go! is Microwave and Dishwasher safe. All One-Piece! Say Good-bye to the extra laundry & dishes!
As seen on Shark Tank, created by celebrity Mom, Lisa D'Amato (America's Next Top Model All-Star Winner).